Present in Bandol on the occasion of the Cupra Padel-Point Tour, France's No. 3 Elodie Invernon agreed to answer questions from Padel Magazine.
The Human Padel Open: "a crazy experience"
Padel Magazine: The Human Padel Open was the first WPT event in France. Despite your defeat in the first round, you had the chance to play an insane match in 3 sets in the night session. Looking back, what did you and Charlotte miss to win that day?
Elodie Invernon : " Experience. We are not used to playing this kind of international tournament, we played a lot on the French circuit and very little on the international circuit, even though we are starting a little this year. We were incredibly lucky to get the wild card in the first round of the WPT final draw, so another nice surprise and we were not used to playing the WPT draw. It was the first time and it was quite unique. We were dealing with players who are more used to were on these kind of matches, they were 50-60th in the world I think… so I think we really missed the experience and we can play more matches like that.
Playing on the central in the night session, it was really incredible. »
Padel Magazine: In general, how did you feel about this experience at the Human Padel Open?
Elodie : "One word: great. A crazy experience, a top organization. I didn't think it was such a big event, the WPT, there we had a chance to see what it looked like in real life and as players it was an incredible opportunity that we had. Really, it was just luck, we had one motto: enjoy and make the most of it. »
Greenweez Paris Premier Padel Major: "Hyper Frustrating Not To Participate"
Padel magazine: Since unfortunately the ladies are not (yet) present in the Premier padel circuit, I wanted to know, how did you experience the GreenweezParis Premier Padel Major?
Elodie : "I've been there, it was really cool. Of course I wanted to see how it went. Roland padel is a dream. It was super well organized, I think the players who participated were very excited.
It was of course very frustrating not being able to participate. At least that women can't participate, because we don't know if we could have done that based on our ranking. We might have gotten a wildcard if the women were there, but hey, that wasn't the case.
Obviously we want to be there in a few years and if it is possible it would be a dream to be able to play padel at Roland-Garros once in our lives. It's a mythical place so I'm sure it does more than one dream! »
"A chance for padel to get a legend like Zidane in"
Padel Magazine: We saw you at the inauguration of the Z5 center in Istres. So Zidane on a padel court, what does that look like?
Elodie : "The Z5 in Istres was an exceptional experience. Sponsored by Adidas, I had the chance to be invited along with Zizou to the inauguration of the Z5 center. It was just great to share the field with a sports legend like Zidane.
He's doing well, he's pretty good. After being professional soccer players, soccer players still have phenomenal ball trajectory measurements. Technically it is by definition slightly less strong, since it does not come from racket sports. On the other hand, you really feel that the guy is a champion, and most importantly what is really lucky is that he is a true lover. It's a real opportunity for padel to have guys like Zidane, or other high level football players and athletes stepping in, investing and promoting that padel well. »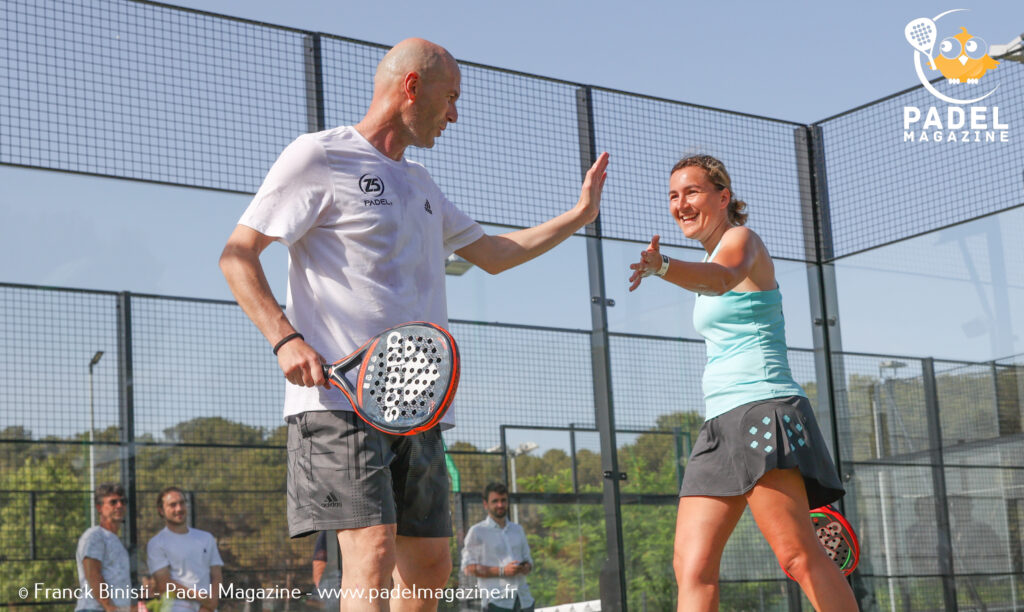 Padel Magazine: Could you give him some "padelistic" advice after all?
Elodie : Not too! We all exchanged that a lot, but I just tried to have as much fun with him as possible. Afterwards I gave him little tips to try and win our exhibition set, but no, I didn't bother him too much with the advice We just took advantage, had a good laugh on the field and tried to make the best of it, that was the most important thing."
The Cupra Padel-Point Tour, "a way to promote padel"
Padel Magazine: You first appeared on the Cupra Padel Point Tour during this edition of Bandol. What do you think of this circuit?
Elodie : "It's really great, the organization is top notch. They really do a great job.
I already followed a bit on social networks, I know that the circuit takes place all over France to promote padel and promote our practice as much as possible.
It's a really super friendly atmosphere, accessible to everyone and a good time to share for everyone: that this evening men, women, children… I had a really great feeling and we're getting the best out of the event. I hope this kind of circuits will continue for a long time, to promote padel as best as possible. »

Passionate about football, I discovered padel in 2019. Since then, it has been so crazy about this sport that I have given up my favorite sport.