The Minister of Labour, Employment and Social Solidarity, Jean Boulet, today announced an $80 million investment in Rimouski, spread over four years, to encourage foreign students to pursue post-secondary studies in French in the region.
The project aims to be part of the response to the labor shortage, with confidence that these students will stay here and take up a job. This concerns both higher professional education and university courses.
For example, at UQAR there are about 600 foreign students.
"I will give a few examples where this could be practically applicable. We are thinking in particular of the Nursing Care Technology courses at the Cégep de Trois-Rivières, the Civil Engineering Technology at the Cégep de Chicoutimi, the Bachelor of Secondary Education, here at the Université du Québec à Rimouski; in Electromechanics from the University of Quebec in Abitibi-Témiscamingue. There are many measures, many programs that can be found on the Québec.ca site. I am convinced that this will improve the regional attractiveness and the retention rate for international students is extremely high. In Rimouski this is estimated at 75 percent', says Minister Boulet.
Personalized support
"When you come to study here, you generally discover a community, you adhere to the social and Quebec values; you meet a life partner, you find a job. People coming from abroad to study full-time will also benefit from in-person support. Throughout the course we will help them adapt; to find housing, build a network and prepare for a job, because we have a particularly acute shortage of workers. I think this is a good initiative for Quebec. Another element is that when people arrive for example here in Quebec, at the Cégep de Rimouski, there is a good chance that the student will decide to continue his academic career at UQAR," adds Mr. Boulet up.
The government intends to increase the number of foreign students over the next three to four years from 2,650 to nearly 5,000 per year. "Quebec's future depends on the regionalization of these international students. We have to make sure that we take full advantage of it," said Boulet.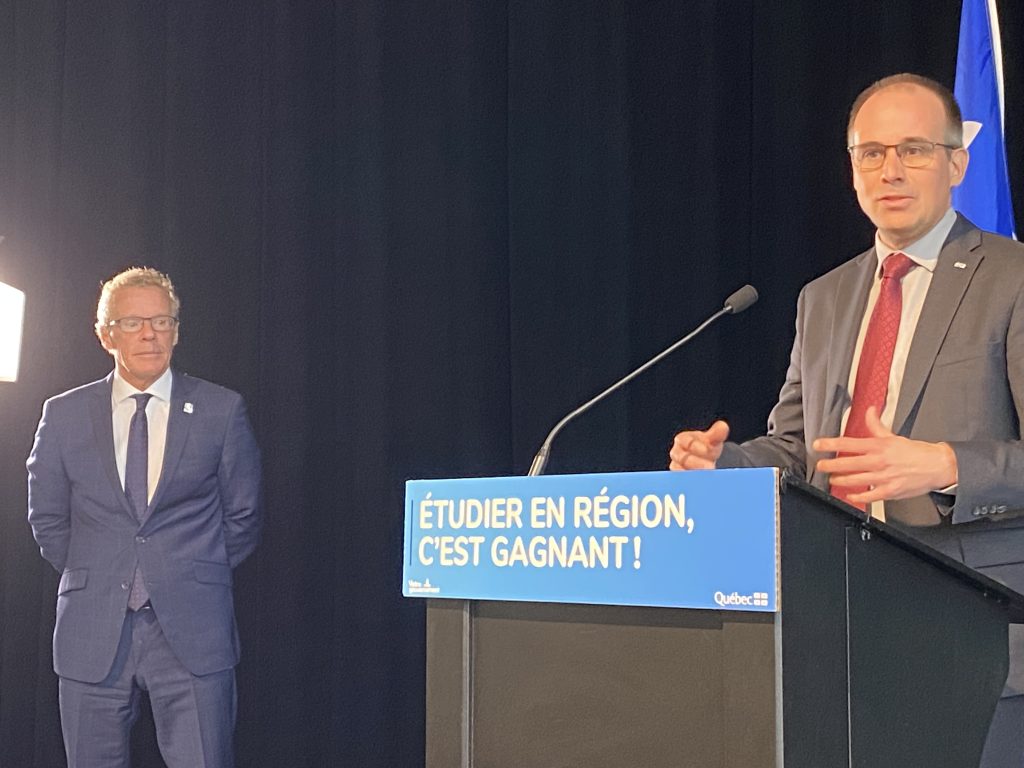 League
The rector of UQAR, François Deschênes, spoke about the competitive advantage that institutions in the regions of Quebec gain in this way.
"It is indeed a great announcement for us, because the demonstration is well established: higher education training makes it possible to attract and retain future workers in the region. This is excellent news, a way to retain graduates in the region. Unfortunately, when university is over, some go to France or return home. With a resource like this, we have additional arguments to keep them. In particular, we know that in La Francophonie in general tuition fees are very high. We now have a way to make our training even more accessible. †
"Thanks to the government and thanks to the minister for thinking about the problems of regions like ours. It will clearly help us make a difference," added Mr Deschênes.
Jobs of $17,000 $24,000 withdrawn
Thanks to this new measure, foreign students who meet the admission requirements are exempt from paying the additional tuition fees that normally apply to them. For example, the average annual cost for a foreign student without an exemption is nearly $17,000 at the college level and about $24,000 at the undergraduate level.
"Once the measure goes into effect, scheduled for the fall of 2023, and until graduation, eligible foreign students will pay the same basic tuition as all Quebec students, i.e. no tuition, and nearly $3,000 for a full-time student. They can also work up to 20 hours a week during their studies and thus meet the labor needs of employers in the regions," according to a press release from the cabinet of Minister Boulet.
Suitability
To be eligible, students must attend a higher education institution in the region, i.e. outside the territory of the Montreal Metropolitan Community (CMM), and complete a full-time study program in French, intended as part of the Workforce Operation in one of the priority sectors, ie information technology, engineering, health and social services, education and early childhood education.
"This measure aims to attract and promote the long-term settlement of foreign students in the regions of Quebec. With this investment, they can follow training courses in sectors with serious labor shortages. After graduation, many of them will be able to find jobs in the regions and apply to one of the permanent immigration programs. This initiative also aims to promote greater regionalization of immigration, while the vast majority of foreign students and immigrants settle more in the Metropolitan Community of Montreal," Quebec also specifies.
Ambition
"We have the ambition to increase the number of immigrants in the region. I am therefore very pleased to announce this new measure, which will have an even greater impact on the academic path of immigrants and on their settlement in Quebec. This is a win-win situation for promoting the learning of French and consequently for a sustainable integration into the values ​​of our society. The contribution of foreign students no longer needs to be demonstrated. This measure reflects the government's desire to work towards the regionalization of immigration by facilitating the arrival of vitality both for our institutions and for Quebec's economic and social vitality. It's a win for everyone," said Jean Boulet.
"I am very pleased to know that this new measure will encourage more foreign students to visit our locations in the regions. This is an important factor for the vitality of our universities and colleges. This is good news for all of Quebec's society. People who come to learn with us can count on quality training and stimulating environments," concludes Danielle McCann, Minister of Higher Education.
Labor operation
Operation Workforce is a targeted government offensive to address critical labor issues. It is part of the government's economic vision for the next five years. It is based on action levers such as the integration and retention of the unemployed in employment, training to adapt skills, increased productivity and immigration.
Guidance Quebec
Guidance Québec is a free and personalized service that allows immigrants to be advised and guided by integration counselors. The latter assess their immediate or future needs and, together with them, draw up an individual action plan to help them settle in Quebec, discover Quebec society, learn French, enter the labor market and ultimately inform them about the procedures for permanent immigration, if required.