When suddenly nothing goes… (Photo: Towfiqu Barbhuiya for Unsplash)
DAMN WORK! is a section where Olivier Schmouker answers your toughest questions [et les plus pertinentes] about the modern business world… and of course its quirks. An appointment to read Tuesdays and the Thursday† Do you want to join? Send us your inquiry at mauditejob@groupecontex.ca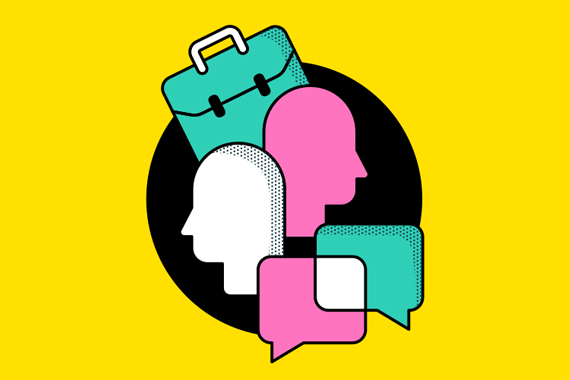 Q. – "I own an SME with about ten employees who work in the cultural sector. Things are finally picking up, for good, it seems. And yet my health is no better: waves of fatigue take all my energy with them for several days, or dark thoughts swirl in my skull and prevent me from sleeping. I am always afraid that disaster will happen without warning. I feel tense, anxious, anxious. permanently. How can I find some peace of mind? –Gabriel
A. – Dear Gabriel, know that you are not the only one who falls prey to these torments. Relief, an organization that helps Quebec residents cope with anxiety, depression and bipolarity, has seen a 30% increase in the number of requests for help since the start of the pandemic. And the demand from entrepreneurs was so great that last September he launched the Utilities Program, which aims to support business leaders who are concerned about better mental health for themselves and their employees.
According to consultancy Deloitte, 3% of workers in Canada are absent for mental health reasons every week. This is a financial trap: 70% of a company's disability costs today are attributable to psychological problems.
Hence my idea, Gabriel, to share with you three testimonials from entrepreneurs who are going through the same difficulties as you. Touching testimonials, which took place last week during the webinar "The People Behind the Company" organized by the Federation of Quebec Chambers of Commerce. Testimonials, it seems to me, could not be more inspiring.
1. Pierre Marc Tremblay, Owner, Pacini Restaurants
Overnight, the pandemic changed the game for the Pacini restaurant chain: closing 25% of its restaurants and "temporarily" laying off about 800 employees. "The losses immediately ran to millions of dollars," said owner Pierre Marc Tremblay with a lump in his throat.
The health and economic crises had a devastating effect on his personal life. His mother died of complications from COVID-19. His couple is divorced. His body began to suffer from shingles and acute prostatitis. "The stress was endless and translated into excruciating physical reactions," he said.
As the months passed, Pierre Marc Tremblay felt an increasingly overwhelming pressure on his shoulders. To break his back. To break his morals. "So I started to cry," he said breathlessly.
The crying set him free. "They helped me clear my head, wash away my wounds and move on," he said.
Crying gave her the nerve to openly talk to others about her pain. "I didn't dare broach the subject with my team of managers. I was afraid of collapsing in front of them, when I was supposed to be the infallible leader. I was afraid, and I was wrong to be afraid, because they immediately supported me, like never before," he explained, noting that it gave him "the strength to face the storm".
According to the owner of the Pacini restaurants, today, in 2022, the business certainly wouldn't have started as well if he hadn't opened up to his lieutenants in 2020.
2. Tommy Roberge, President, Escalera
Tommy Roberge's nightmare began in 2014. That year, the president of Escaléra wanted to expand the operations of his Quebec general construction company to Alberta. He settled in Calgary with his small family, just to "capture market share" while his children would become "perfectly bilingual." But then everything started to go wrong at the parent company "as soon as…[il] had turned his back": "Weird things happened and soon the box started losing money," he said, noting that "sales fell sharply from $12 million to $2.5 million".
The situation has become confused, both at the company and at home. He had to multiply round trips between Quebec and Calgary to "make war to make things right," which took "months and months." During this time, his little family felt abandoned: "My youngest was so mad at me that she… that she… that she didn't speak to me for three years," he revealed, sobbing in her voice.
"I had nothing left. I could no longer pay my people. I could no longer communicate with my relatives. The emotional load was unbearable!"
One fine day, Tommy Roberge drove to a construction site to solve yet another problem. The road was long. The road was endless. He saw a truck coming at full speed from the opposite direction and the idea occurred to him to divert to the car. To finish. "I saw the image of my children appear on my windshield, that saved me," he said in tears.
The president of Escaléra had an encouraging click after an email. Half an hour after he wrote and texted his contact at the Business Development Bank of Canada (BDC) telling him he had no idea how he got out of the financial mess he was in, the police stormed into his office. . Because they were afraid that he would commit an irreparable act. "Then I understood that I was not alone, that I could count on people around me to help me get my head above water," he said.
His idea then was to stop worrying about him and help others instead! Things didn't go well with a foreman in La Malbaie? He would jump in his car and take whatever time it took to cheer him up. Are office workers only eating in front of their computer screens? He forced everyone to eat together and chat about anything and everything. "What was needed, for me, for the others, were outbursts of solidarity, moments full of humanity," he summed up.
3. Paul Le Brun, CEO, Brault & Bouthillier
90%. The pandemic has reduced sales of Brault & Bouthillier, a Montreal-based educational games specialist, by 90%. "The locks dried up in the blink of an eye," says CEO Paul Le Brun.
Result? Operations slowed, wages plummeted, and employees came to visit him in his office to tell him, traumatized, that they could no longer make ends meet. "For the first time I felt powerless. Extremely alone. Worse, poorly rated," he said.
The pressure was so great that it eventually burst. "I, being a triathlete, gave my 110% to overcome the difficulties. But the task proved tiring and the results were disappointing. I eventually took refuge in alcohol," he said, adding that he had "alcoholism problems" even today.
Paul Le Brun eventually realized that the bad news was undermining him more than anything. So he focused on "finding the positive" in work and in life in general. Because it gives "a whole new energy". Because if you hit the bottom, you can "give the necessary and enough kick to get to the surface".
The trick is to "wait in a hurry," said Paul Le Brun. It consists of taking it step by step, without rushing. "Nobody becomes a marathon runner by running 42.2km in the first race," he explained. You have to go in stages: to exceed the 30 km, you need at least six months of training.
Each has its own stages. It can come down to 'talking out' about one's difficulties and inability. To "show his vulnerability". If necessary, to "cry" in front of others. According to the CEO of Brault & Bouthillier, "something good always comes out," whether it's the relief of "demolitioning the wrong image of the superhero CEO" or the pleasure of discovering "other people are great this way." . 'Empathy".
These, Gabriel, are the three testimonials I wanted to share with you. They can be summarized in the following three practical tips, within reach of each of us, I think:
† to unlock† Dare to show your vulnerability, because being open to others opens their hearts.
† Act† Help others, because at the same time it makes it possible to do good for yourself.
† Change† Change negative to positive, step by step.
By the way, the French writer Christian Charrière said in the soul master"We are in the brush; the weeds grow within us, which we have to pull up with handfuls to discover the landscape that surrounds us."