Caption: The atmosphere at the Korrigan restaurant in Quimper was festive last Friday, for Patrick Martet's birthday, a moment to look back on his entire career as a professional football player in the 1980s.
Patrick Martet, who celebrated his 67th birthday last Friday, is of the same age group as Michel Platini, Dominique Rocheteau, Maxime Bossis. Compulsory military service, the best football players of the time were gathered in a special military battalion, that of Joinville. "I was selected for the French army and hope team. For a year, in 1975, I rubbed from morning to night with Michel Platini, Olivier Rouyer, Omar Sahnoun, the brothers Rampillon, Gilles and Patrick, Maxime Bossis. I played holder in the striker I was replaced by Eric Pécout, who scored a hat-trick with FC Nantes, in the French cup final against AJ Auxerre (4-1, ap, 1979/1980)"remembers Patrick Martet.
At a time when training centers were still in the making, he went through the stages at his ACBB (Boulogne-Billancourt) club before being courted by Poissy. Five years with this club, culminating in a rise in D2, in 1976/1977, before Finistère sent him a first phone call. A man named René Charlot from Brest Armorique (D2) makes contact with the Ile-de-France striker.
"I was in touch with several clubs, including Paris FC. I had a promotion contract when I arrived at Stade Brestois. Brest signed three players, Daniel Bernard in the Paris Saint-Germain goals ("it was he who tipped me in for a goalkeeper, a shot fake to get him out of his support, and quickly slide on his open side, I scored a lot of goals that way), a Dutchman, Willem Letemahulu and me from Poissy. I fall into a family club. We prepared ourselves at the Charlot family campsite, in Pen Trez, in Saint-Nic. As a family we have it right, we create atmosphere. We don't lose a game in preparation, PSG 1-1, Guingamp, 6-0, we beat Angers. Full of confidence we arrive in the first race, in Penvillers, in Quimper. We don't understand, we get a double from Jacky Castellan, before going back to 2-1, before half time. We finish at 2-2, then we lose to Mulhouse, in Le Blé, and we win on a penalty from Guingamp. Then this victory launches us, we play 16 games in a row without defeat. This season 1978/1979 we were at the top, our click, our victory in Rennes in front of 20,000 spectators. We win at Lens (2nd), 1-3 with a double by Loulou Floch. The return, to Brest, on my birthday, April 29. Special, we had parked our car in the morning at the Lycée Foucault. We return to the city by minibus for dinner, down the rue de Siam at Jean-Louis Vialle in the West Indies. When we go back upstairs, this Sunday afternoon, it was busy. We can no longer pass with our minibus, rue Jean Jaurès. We'll fill the stadium with 20,000 people (it's huge!). If there had been the same central grandstand, there would have been 25,000 people. People climbed the pylons. We won the match of the climb 3-1"†
Served by Loulou Floch or Willem Letemahulu, Patrick Martet is enjoying his first year in Brest, scoring 26 goals (the record will be in the cub's tablets for almost 40 years, before Gaétan Charbonnier manages to surpass him with 27 goals) "He played four more games. It pissed me off when he beat him, even though there's a record that needs to be broken.", laughs Patrick Martet. Even beaten by Gueugnon, for the title of French D2 champion (1-2, 0-1 with a return to Quimper), the party is complete. With 26 goals, out of 23, Patrick Martet has made a name for himself in French football and logically the phone rings. "Twice, on the side of the principality". "I was contacted twice by Jean-Louis Camporra, the AS Monaco president. I was excluded by Stade Brestois. I only signed a non-binding promotional contract"†
The D1 apprenticeship is painful for the Stade Brestois 29. Last in the standings, with the lowest points in history, Brest and Patrick Martet are having a complicated season. "During the season I am being hit hard from behind. In a match with the reserve team, in Saint-Brieuc, in D3, Alain De Martigny, our coach, told me that if you are good in Saint-Brieuc, I will put you back in the Put A group. It's off. I'm doing my rehabilitation in Tréboul with Delio Onnis (the Argentine striker, top scorer in the history of AS Monaco) or Daniel Zorzetto, who I will find later in Rouen)†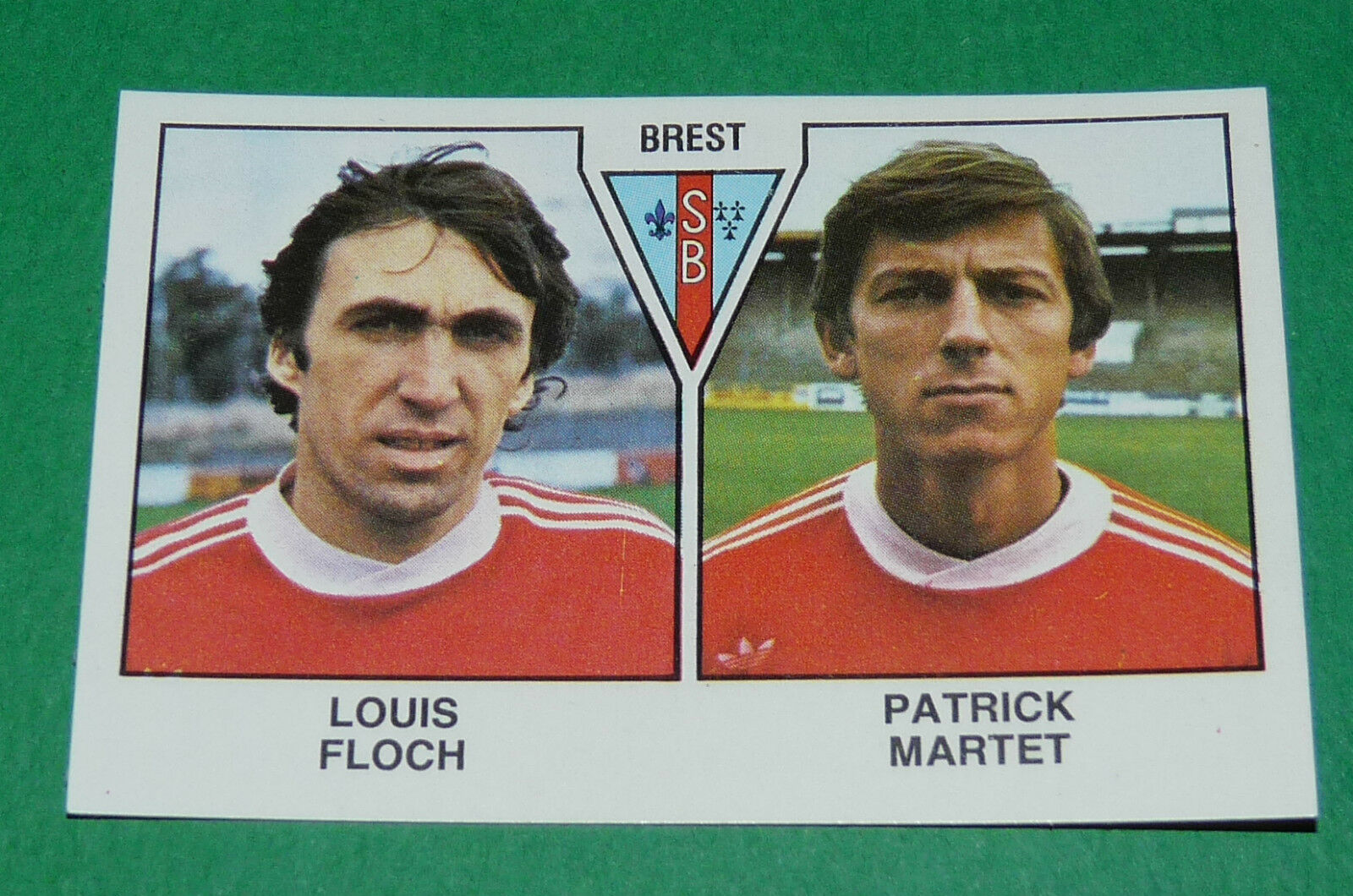 The club will remain with Brest Armorique for another year and return straight to D1 with the only senior title in its history, champion of France D2 1980/81, with a win over Montpellier. Patrick Martet puts together 19 goals, a successful new season but an irreparable break with the Brest club. "They've turned it upside down for me. My renewal contract dragged on. While I was waiting for an answer that hadn't come in since February, I learned in June with De Martigny (Brest coach), during a regular jog in a forest in Brest , that I have club contacts next year. He didn't even tell me things to my face that I was not guarded. Afterwards I heard that he had signed a "Yougo" from behind, Milan Radovic , for 2,000,000 francs, when they refused that I am going to Monaco for 800.000 I remember it was before the Montpellier game for the title of D2 champion The game is played in Sète, I am in the team ("He couldn't get me out") , and I put two (1-3)"†
Patrick Martet, who remained at this level of D2, signed for Le Havre AC at the urging of the president, Jean-Pierre Hureau. "I played France – England in March this year, in Le Havre. I scored the only goal with a header. Jean-Pierre Hureau wanted to sign me right after. Three great seasons, especially with Léonce Lavagne and Didier Notheaux. We had almost At that time I was in a divorce process, my wife was from Brest I am coming back to Finistère, for my son, Anthony, and my couple, because I did not want to be separated from my family. I sign at the Stade Quimperois for two years in 1984/1986, two average seasons, with injuries, but it was in Quimper where I learned the most for my future professional life, meeting good people Real estate is an area that has always attracted me The difference between Brest and Quimper , in football? Brest, we feel a passion, an instant infatuation, Quimper, it's something different, it's a little bit Club Med, the boats, the sun The atmosphere is totally different , but I continued to spend my life in Quimper to get up yours, that is, my daughter, was born in Finistère, in Brest"†
" width="100%">
While everything seemed to have ended with EA Guingamp (a hat-trick in a friendly, 7-0 win, quadrupling for Szarmach), the Costa Rican club, led by Noël Le Graët, was left out. Arriving in Beauvais, with a 5th place in the final in D2, a detour through Rouen, with a second title of top scorer in D2 in 87/88 with 26 goals again (like his first season in Brest, at 31), with Bruno Metsu, Daniel Zorzetto , coached by Arnaud Dos Santos. Before returning to Le Havre AC and Beauvais. Finistère will mark again his last sporting stop, the division that unveiled him to Brest in 1978 and that allowed him to complete his career at the Stade Quimperois (first match, his return, against FC Lorient, leader in D3, first ball, goal) on his way to promotion of honor in 1995/1996, at the age of 40.
"Football has enabled me to realize my childhood dream. A career depends on certain people who make decisions. For example, my example at AS Monaco, maybe I could have gone higher than the French team, players with whom I had made selections in youth or army. If I regret not playing in England, I had the style for this championship. I will explode there. My style of play, today, if I have to name a striker who looks like me "It would be Olivier Being Giroud, he's the only striker I see similarities. Football before that probably had fewer barriers. When we went up in D1 with Brest, we went out after the games. We all went to a nightclub, on Cle des Champs in Plougastel"†
In this football at the limits of current professionalism, Patrick Martet represented the striker in the 80s, with a constant presence in the area. Player type of D2, such as Franck Priou, Jean-Pierre Orts, Philippe Prieur, Dominique Corroyer, who also symbolized his attackers with considerable longevity in D2, it is no coincidence that the two best scorers in this division (Ligue 2) still belong to this era with Jean-Pierre Orts and Patrick Martet.