The Russian-speaking community in Germany is more divided than ever and on May 9 this division is likely to become even stronger. It is the day on which Russia celebrates its most important holiday, the end of World War II and, above all, the Red Army's victory over Hitler's Germany in 1945.
A party instrumentalized by the Kremlin
May 9 is the traditional day when Russia's military arsenal is presented to the public during a parade on Moscow's Red Square.
In recent years, this holiday has been largely exploited by the power of Vladimir Putin. And that promises to be even more the case in this war year, not only in Russia but also in Germany.
On 9 May, pro-Russian groups want to take to the streets again, which worries Fabio Ghelli, of the Media Service Integration. This information platform on the topics of flight, migration and discrimination recently organized a round table discussion on the divisions of Russian speakers in Germany.
"In this context, there is growing fear that the numerous events announced to celebrate the end of the Second World War on May 8 and 9 – in Berlin there are already about thirty! – that these events could lead to an escalation ."
Medina Schaubert shares this fear. The director of the Berlin association Vision is trying to make Russian speakers in Germany aware of the effects of the Kremlin's state propaganda.
According to her, reports of pro-Putin protests paint a distorted picture of the community. And play the propaganda game.
"As soon as a motorcade or demonstration takes place in a major city, the online portal RIA Novosti immediately publishes a video about people demonstrating. And this of course has a cumulative effect, because Russian speakers who are unsure, worried but still a little affected through the propaganda, look at this and say, okay, if people take to the streets for this, why not me?
The role of Russian media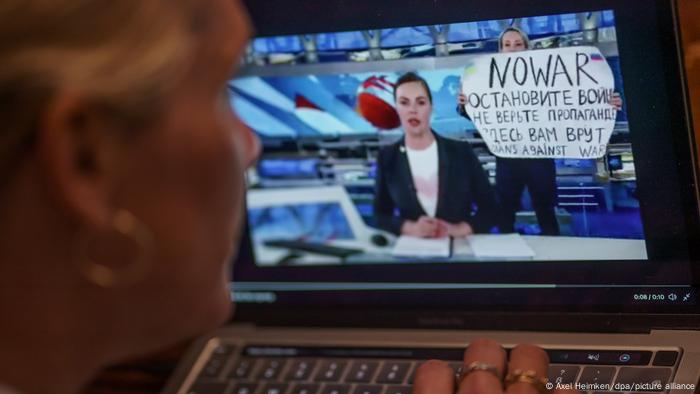 With few exceptions, Russian television does not leak any criticism of the war in Ukraine
Germany's Russian-speaking community numbers about 3.5 million people, but it is far from a homogeneous community, as Tatiana Golova, a sociologist at the Center for Eastern European and International Studies in Berlin, points out.
"There are different socio-cultural backgrounds. The largest group is certainly the Germans from Russia, the late returnees and their relatives. There are also Jewish refugees, people who have joined their families, or still professionals who use the Blue Card. And there are also political activists who have fled Russia. These are very diverse life worlds and as a result the reactions to the positions against war and against the situation of refugees from Ukraine in Germany are very diverse."
There is no current data on what media Russian speakers in Germany use to get their news, but according to Medina Schaubert, it is clear that Russian state media plays an important role in some households.
"I see it down to my family. We have people who consume a lot of Russian media and are so enthusiastic about Putin's discipline and order, when they've never set foot in Russia. We have to figure it out for themselves. And it's true that since the sanctions came in the context of the annexation of Crimea in 2014, I can no longer talk to two of my uncles.Many years have passed now, but I remember very well that when we sat at a table, we would come out with red heads because we had yelled at each other.
Avoiding the feeling of exclusion of Russian speakers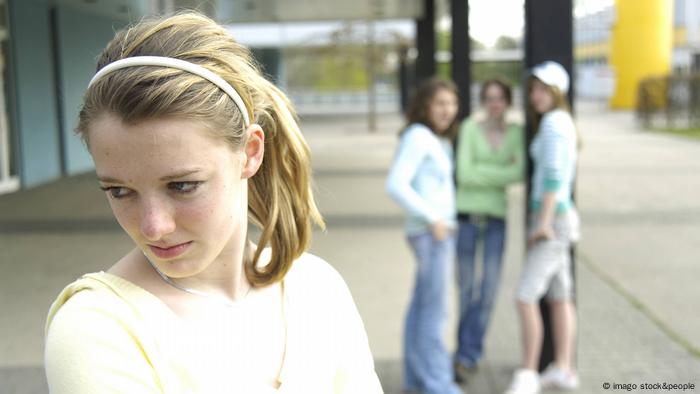 Cases of discrimination are blown up, reinforced by propaganda
Medina Schaubert considers it all the more important to report on counter-demonstrations and solidarity demonstrations for Ukraine, "which will be very numerous on 8 and 9 May", according to her. And to avoid presenting the community as if everyone is in favor of Vladimir Putin, so as not to exclude Russian speakers from the rest of German society.
The feeling of exclusion is already strong among Russian speakers, regrets Sergei Prokopkin, lawyer and trainer in the fight against discrimination. He underlines the role of Russian propaganda in this phenomenon.
"What I notice is that members of the Russian-speaking community often emphasize the protective power of Russia, which presents itself as a country that wants to protect all Russian-speaking citizens, not even Russians, around the world. That feeling has been picked up and stoked It means making small incidents out of the mountains, blowing up the suitcases."
Sergei Prokopkin cites in particular the case of parents of students who would rather send a letter to the Russian embassy than complain to the management of their children's school when they encounter testimonies of hostility from their comrades. The atmosphere of mistrust, he emphasizes, is fueled by the propaganda media.
"This means that certain cases of discrimination, whether they actually happened or not, are first spread and then snowballed into importance. And in the end nothing useful comes out of that. the police or victim support services, but hate, hate towards Ukrainians. This is what I see on social media and especially in closed channels like Telegram channels, where some propaganda is spread unilaterally."
More than 200 crimes a week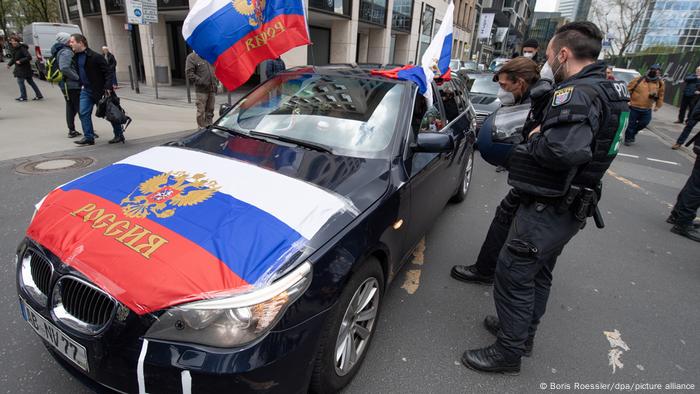 Police closely monitor pro-Russian protests
Federal Interior Minister Nancy Faeser is expected to closely monitor pro-Russian protests on May 9 Memorial Day. The glorification of war may soon even be prosecuted as a crime in Germany.
A recent study by the Mediendienst Integratie among the police services of the Länder and the federal police shows to what extent the war is already having an effect in Germany. According to this investigation, authorities have registered about 1,700 crimes since the beginning of the Russian invasion on February 24, and an average of 200 crimes per week.
Most registered damage is of a material nature, such as smashed windows, flat tires or graffiti on buildings. But isolated acts of violence against people of Ukrainian or Russian descent have also been recorded.
The trend is downward, according to the research, which also indicates that more than 170 proceedings have been opened across Germany regarding the use of the Z symbol. The Z symbol is considered a sign of approval of the Russian war of aggression against Ukraine.
Listen again → The unwanted Z in Germany (viewed from Germany March 30, 2022)
†
Why are more and more Israelis taking up German?
As surprising as it may seem, in Israel learning German was completely banned from school curricula until 2015. Previously, Israelis only learned German as adults, either at the Goethe Institute or at the Open University.
Seven years ago, Nafatali Benett, then Minister of Education, signed a legendary agreement with Germany so that Israeli students could finally learn German at school. Since then, you can choose German as a second foreign language from secondary school and even get a German diploma.
At the same time, the number of Israelis who have settled in Germany, especially in Berlin, has steadily increased over the past two decades.
However, for many Israelis, the German language is still that of the Nazis, and teaching it to children is still controversial… Seven years after the introduction of German into the school curriculum, teaching it in Israeli schools? Who are the students who have chosen to learn this language? And why do so many Israelis dream of moving to Germany? We leave for Tel Aviv with our correspondent, Hélène Machline.
→ Do you also want to learn German? See you in this section!
Seen from Germany, a weekly radio magazine, presented by Hugo Flotat-Talon and Anne Le Touzé, is broadcast on Wednesdays and Sundays at 5.30 pm, and also available as a podcast. Contributors to this issue: Ralf Bosen (topic on the Russian-speaking community) and Hélène Machline (report in Tel Aviv). You will find all the songs in the media library, to listen online or to download in MP3 format. The podcast is also available on some podcast platforms.